"Turn it into a Spreadsheet!"
---
Late Breaking News!! 04/17/2009
Due to a sudden increase in GEDxlate users (thank you Dick Eastman!), a bug has been uncovered that slipped through the cracks during Beta testing. Though only a scant few folks have encountered the problem, it is a significant one - the program doesn't always recognize a GEDCOM file when it sees one. I have to fix it. And I will. And when I do I'll let you know right here. Okay?


More Late Breaking News!! 04/20/2009
Fixed! Download GEDxlateLite version 1.2 by clicking on the button below.

---
Click to download Lite version 1.2
(4/24/2009 build)

---
What is GEDxlate?

GEDxlate quickly and easily translates genealogy data from standard GEDCOM format into MS Access dB (*.mdb), MS Excel Worksheet (*.xls), comma delimited (*.csv), and text file (*.txt) formats. Pick a GEDCOM file to translate; select which fields you want to include in your dB, spreadsheet, csv, or txt file; choose an output format and file name to save the translated data in; and you're there!


And it's FREE!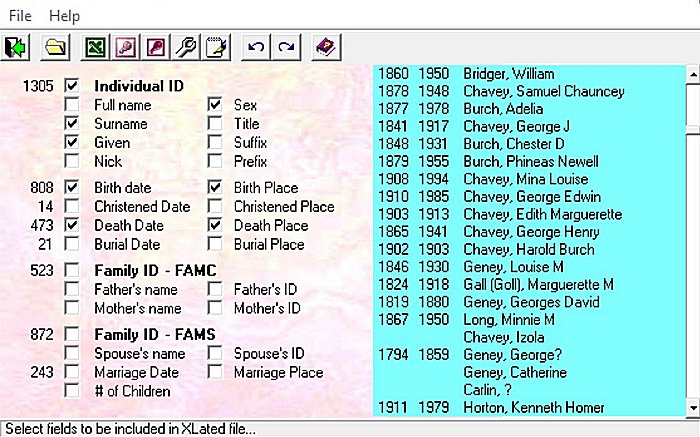 A beefed up retail version (with lots more bells and whistles!) is due out shortly.

Version 1.1 speeds up Excel spreadsheet creation, increases spouses from 1 to 3, increases max Individuals from 10k to 600k, and fixes a few minor bugs.
---
Wow. I have just downloaded your GEDCOM to Excel translator and am stunned with the simplicity and neatness of the process.

It is EXACTLY what I was looking for.

Having used various proprietary family tree programs I keep coming back to Excel as offering the best functionality for sorting, filtering and manipulating data but the time spent entering data is proving a real pain. Your program has just made the importing of data from others a million times easier.

David B
Berkhamsted, England